Don't forget to sign up for your FREE meal package for your virtual learners! We offer contactless pick-up to keep you and our staff safe. And it's so easy! Take a break between 11:30 am and 1 pm, drive behind the High School, across from the softball field/tennis courts. Shoot us a text when you arrive and we'll bring out your meal package! Sign up before midnight! Use this form (
https://www.jotform.com/form/203333665255050
) to request meals for all Heard County Students you have in your household that are learning virtually right now. Tomorrow's menu can be viewed at Mealviewer.com. Choose the High School to see the virtual meal options. Each student receives a hot lunch for the day and a breakfast for the next morning, for FREE!


Over the past few days, Heard County System officials have been made aware of several new active COVID 19 cases at Heard County Middle School. Currently, HCMS has 14 active cases. This is an increase of 13 since the last day of school on November 20th. After much thought and consultation with the Department of Public Health, Heard County Middle School will switch to virtual learning for the week of November 30th. All middle school students will be expected to work online through their Google Classroom accounts those five days. Students who do not have internet access, please contact the school at 706-675-9247 in order to make arrangements. ALL other schools in the district will resume normal operations on Monday, November 30th.

Progress pics of new gym and performing arts project. Your SPLOST dollars at work!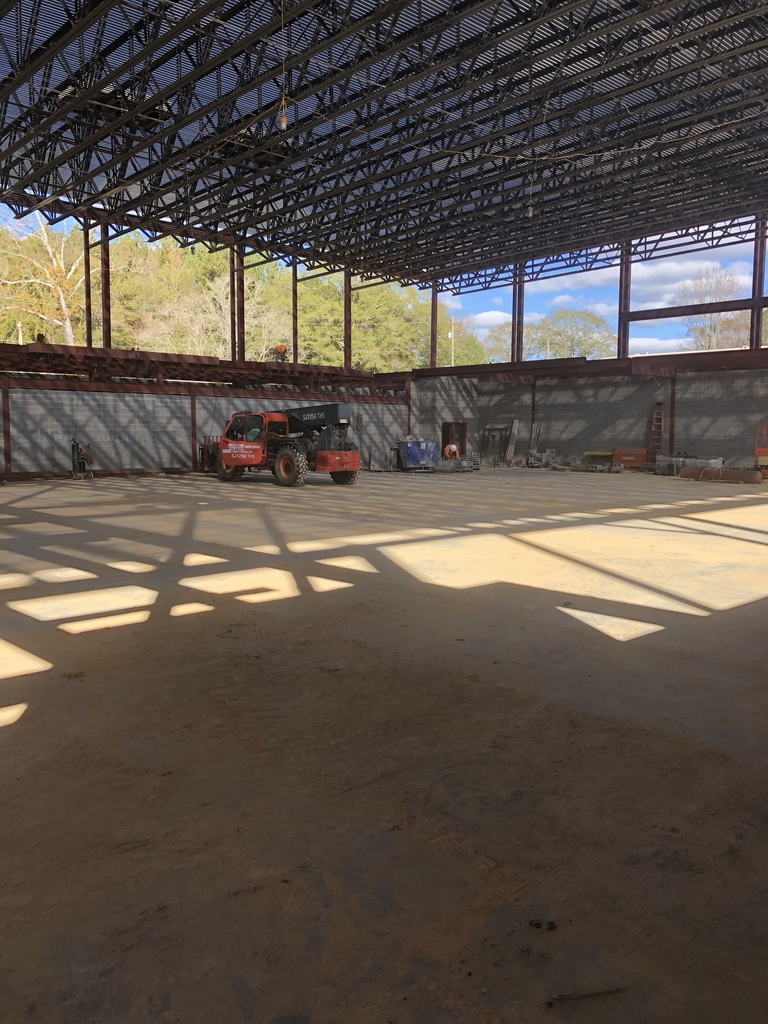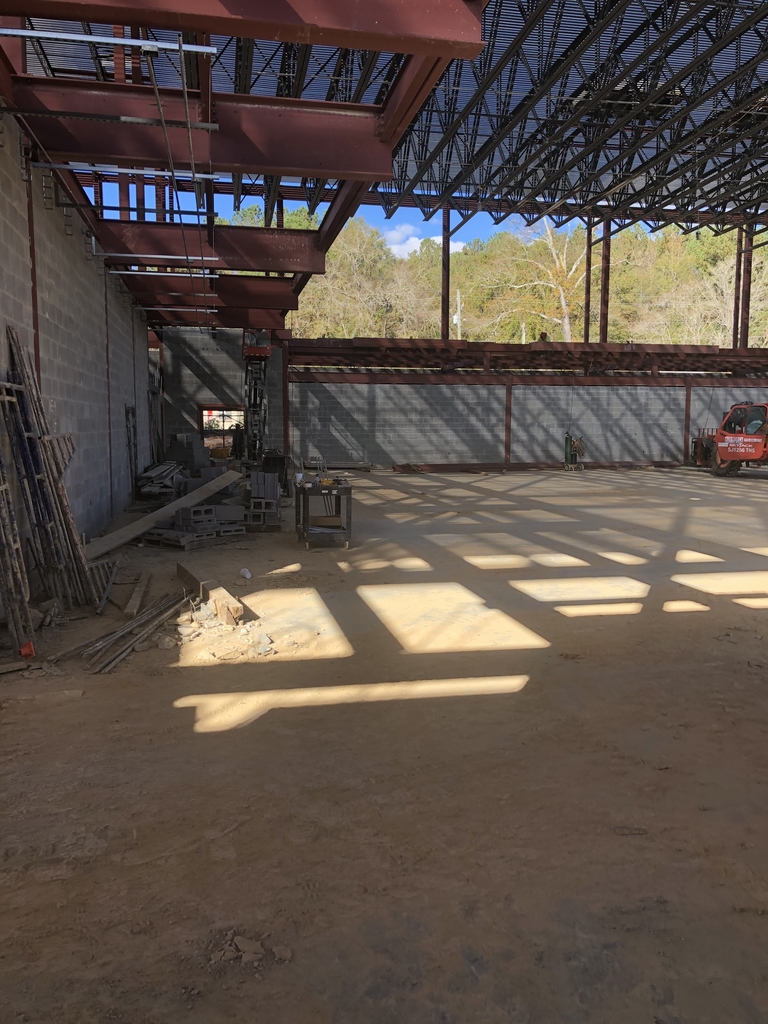 Congratulations to Shelby Oldham for signing with the Southern Union Golf program! Shelby is our first golfer with a college scholarship to play golf! The Brave Nation is proud of you Shelby!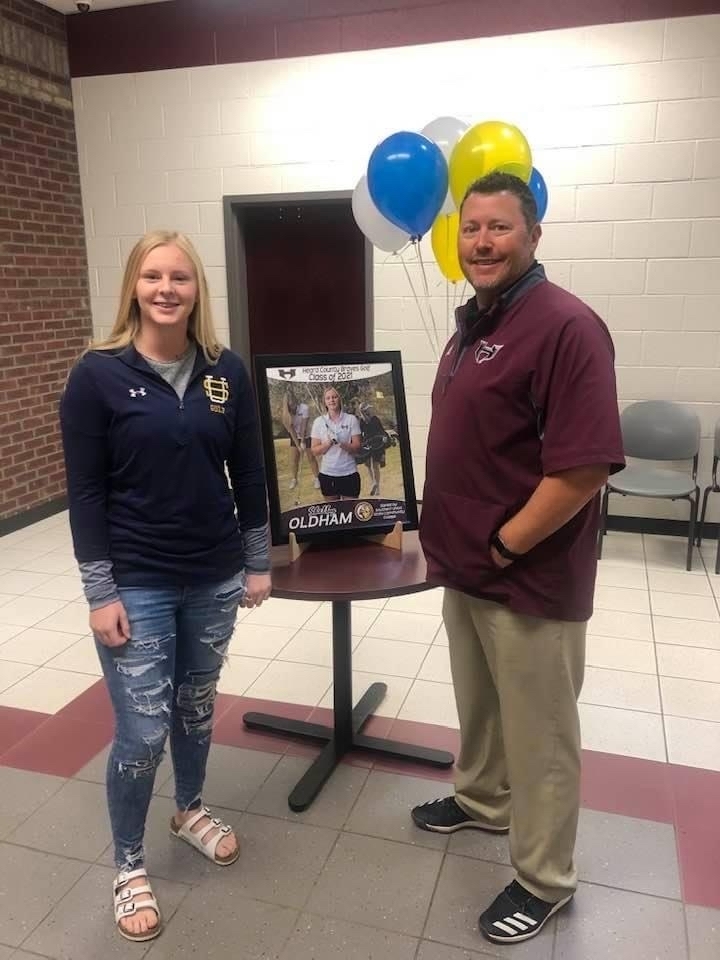 Congratulations to Clint Robinson! Bright Ideas winner. Thank you Coweta-Fayette EMC for supporting our amazing teachers and their creative ideas!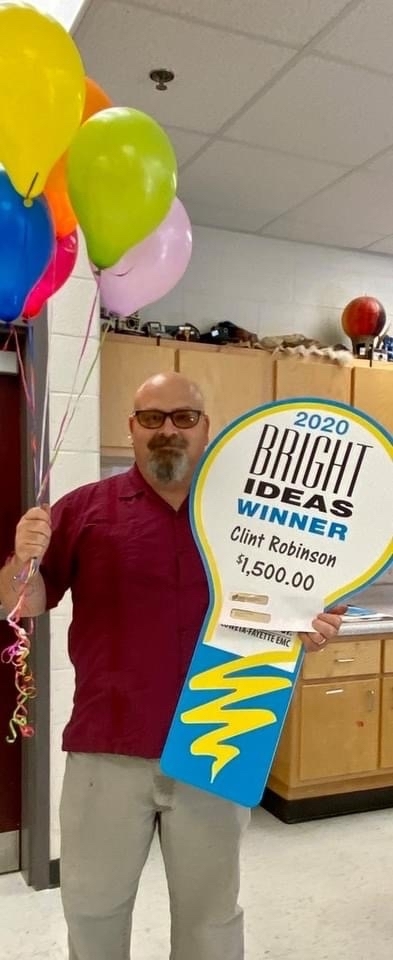 Congratulations to the Heard County Lady Braves! The Lady Braves secured their 2nd state tile in seven years in Columbus by taking down Lovett 14-7.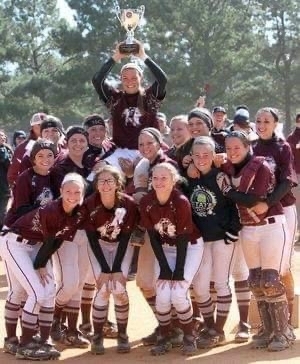 This is an announcement from the Heard County School System: We are currently under a Tropical Storm Warning in Heard County. I wanted to let everyone know due to the possibility of high sustained winds and even higher wind gusts which could lead to downed trees and power lines; we have decided to cancel school for tomorrow, October 29th. This applies to all Heard County School System faculty/staff. This applies to all face to face students and K-5 virtual students. We do not have the authority to shut down GA Virtual School. The transportation guidelines suggest we take buses off the road when winds exceed 35 mph. See the attached pics for the forecast for our area. Some portions of our county are in the 55-60 mph forecasted zone. We discussed delaying school a couple of hours as well, but that would put kids at the bus stop at 8:00 a.m. The current forecast has everything coming in between midnight and 8:00 a.m. We don't want our kids out in those potential conditions. There will be no extracurricular activities allowed tomorrow.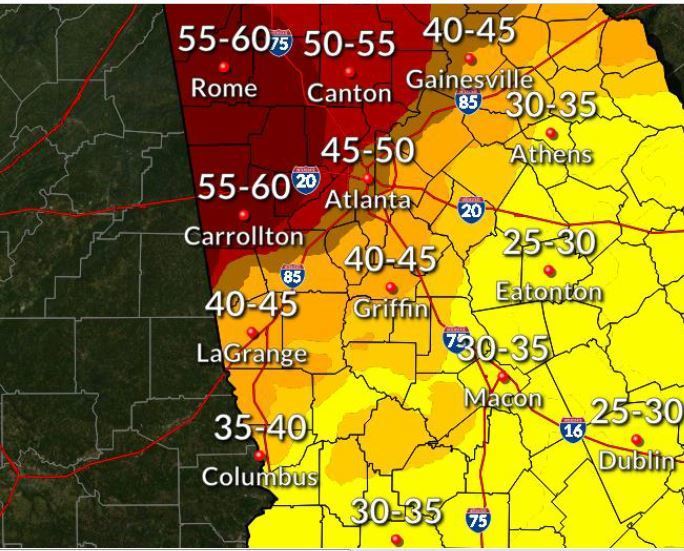 It's School Bus Driver Appreciation Week! The Heard County School System would like to say "thank you" to all of our professionals who are charged with transporting our students safely to and from school each day. These professionals set the tone for a great school day each and every day! If you get a chance, help us let them know how much we appreciate what they do for our children!
USDA announced recently that all students will be able to receive free meals, both breakfast and lunch, at school until June 2021! Check out this news article for 5 great reasons your child should get a FREE school breakfast and lunch!
https://www.heard.k12.ga.us/article/326896?org=hcss

All Heard County students receive free meals! However, your student does have to pick up certain meal components in order for it to be considered a meal. Check out our Facebook page for a couple graphics that can help you and your student determine how to take advantage of the free meals this year! Don't forget to check the dining tab on the Heard County app to see our online menus!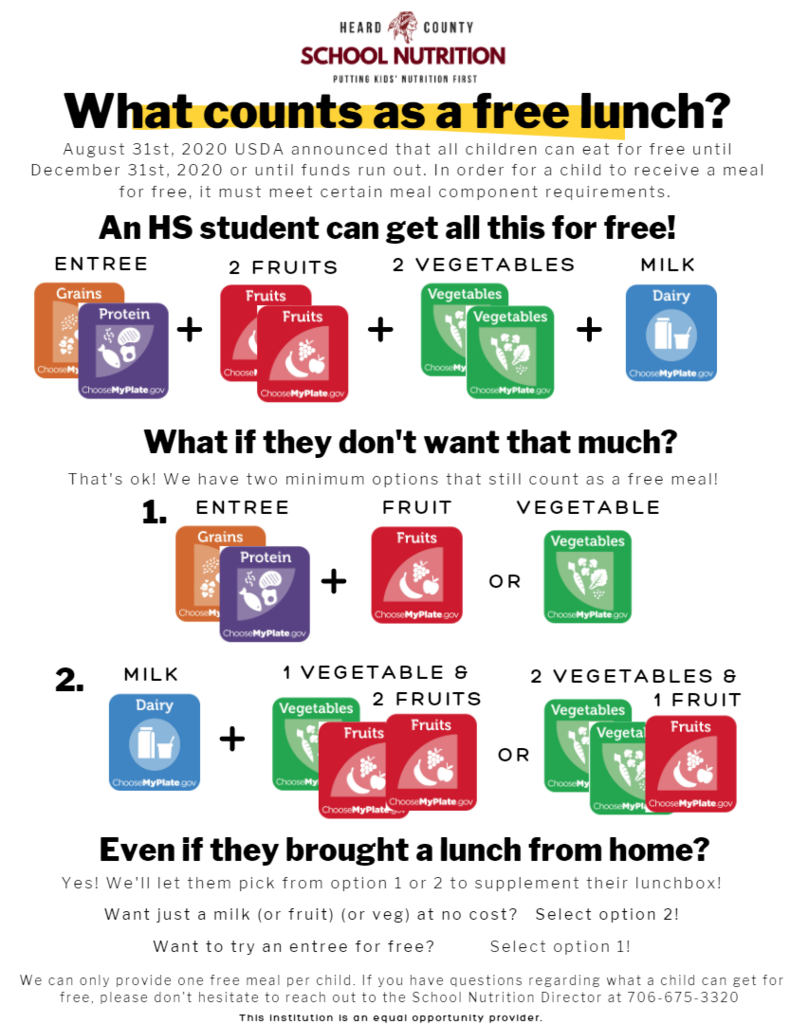 A lot of great stuff going on in our Middle School Art program! Click the link below to see the recent artwork created by our talented students.
https://heardmiddleart.blogspot.com/

Heard County School System will be closed for children on Thursday, September 17th. School will be closed due to an overabundance of caution after watching the 11:30 a.m. National Weather Service briefing. We have large concerns for the amount of rain forecasted for our area. Dirt roads and gravel roads will likely be washed out and make travel impossible in some areas.

HCHS Football Tickets for 2020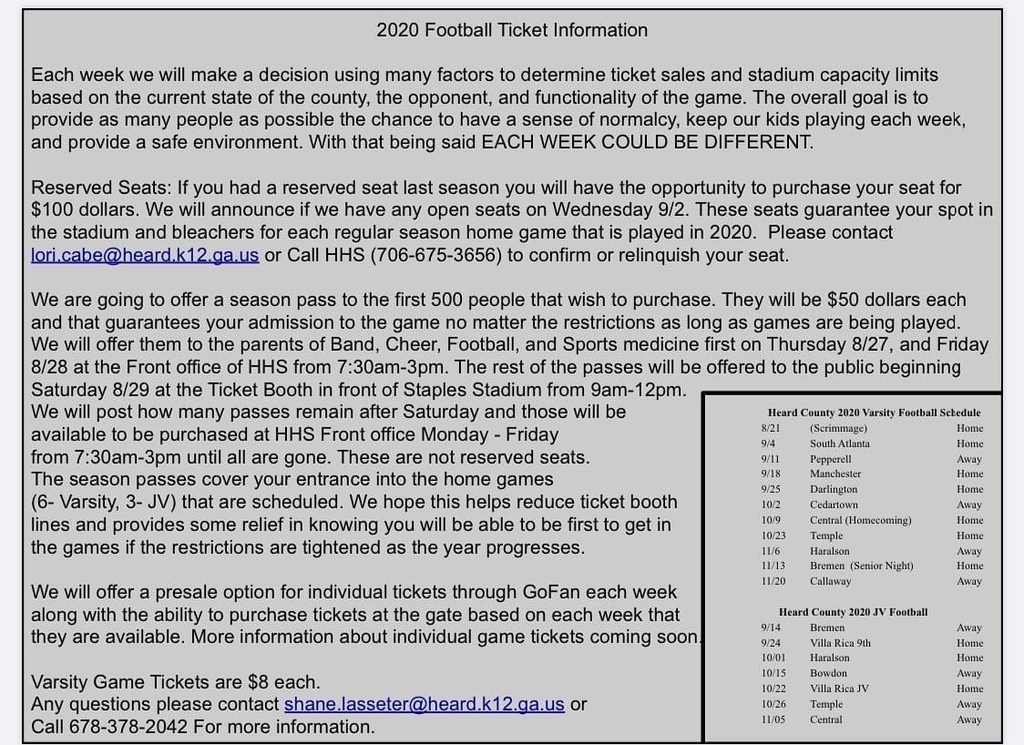 Head Start Registration Now Open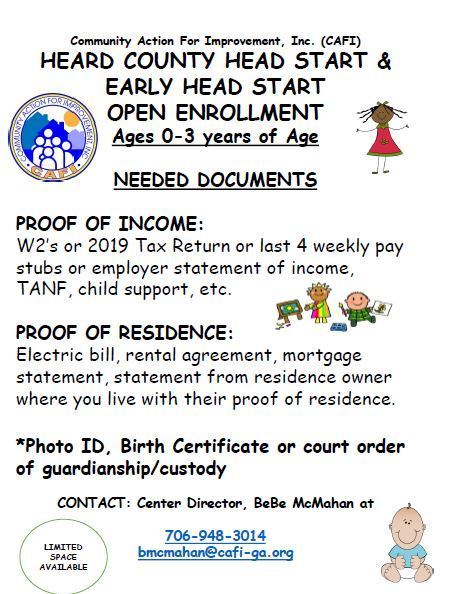 Heard County School System is proud to announce the 2020 Young Georgia Authors Contest Winners K- Addi Kirk -My Cats, 1st Grade- Bailey Putman-How Can I Help My World. 2nd Grade- Zachary Tatum- The Hidden Treasure, 3rd Grade- Vivian Wilson- Short Story, 4th Grade- Owen Camp- The Creation of Bulls and Men, 5th Grade- Piper Busby- The Lusitania 6th Grade- Molly Moreland- Journey to the Center of the Earth, 9th- Sirus Rowell-Outside, 11th- Riley Hunter Bloodsworth- With Love: A Short Story

The Heard County School System is proud to announce the 2020 Reader of the Year Award Winners. CES Reader of the Year 2020 K-2: Carter Howland 3-5: Abby Mattocks CES Reading Achievement 2020 K-2: Will Brewer CES Award for ELL K-2: Yahir Rivera Lopez EES Reader of the Year 2020 K-2: Ulric Rowell EES Reading Achievement 2020 K-2: Parker Wilson 3-5: Aleah Kinard HCES Reader of the Year 2020 K-2: Kensley Tatum 3-5: Anna Stollar HCES Reading Achievement 2020 K-2: Reznor Pietsch 3-5: Cooper Fuller HCMS Reader of the Year 2020 Winner 6-8: Jay Barnes HCMS Reading Achievement 2020 Winner 6-8: Ava Wheat/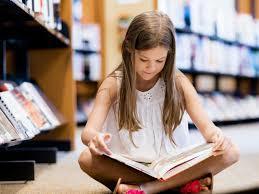 This is a reminder that the Back to School Bash school supply giveaway is tomorrow, Saturday, August 1st from 9:00 to 11:00 a.m. Please remember this year's event is a drive-thru only event at Heard County High School. Student's must be enrolled in Heard County Schools and be present in the vehicle to receive supplies- while supplies last.

Big shout out to HCES Assistant Principal, Mrs. Maggie Bonner! Mrs. Bonner spent countless hours on a self-directed project to bring online forms to the Heard County School System. Thank you Mrs. Bonner for your countless hours of work converting forms and streamlining the process for all Heard County stakeholders! Well done, and thank you for thinking of the entire BraveNation